Moped-aided thefts rise six-fold in London hotspots
Moped-assisted thefts and robberies in London's main shopping hotspots have increased six-fold over the last two years.
Met Police data shows Oxford Street is the worst hit with 291 offences in one year - up from 13 in 2014-15 - writes bbc.com
A criminology expert said moped-enabled theft is the "crime of the moment" as it is "ridiculously easy" to do.
Oxford Street's crowds give thieves cover and there are plenty of "rich pickings" to choose from, he added.
Regent Street saw the number of thefts jump from 3 to 91 between 2015 and 2017, while Bond Street went from 1 to 14.
Supt Mark Payne, from the Met, said "intensive operations" in the West End have led to a decrease in moped-enabled crime since October 2017.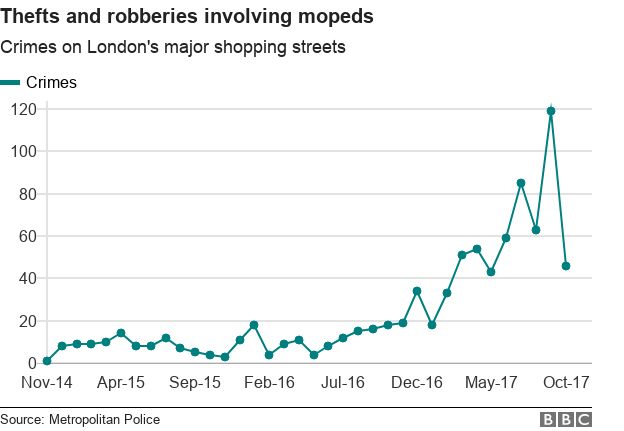 Oxford, Regent and Bond Street combined have 200 million visitors a year.
Upper Street, Kings Road and Marylebone High Street were the other central shopping destinations most affected.
Many offenders travel in pairs on one moped so the passenger can grab items out of the victims' hands as they drive past.
Image caption A man was stabbed on Oxford Street when he chased men on a moped who took his phone
Gloria Matuba was one such victim.
The 23-year-old charity worker was targeted on her way to catch a bus home from work near Old Street, in Islington, in December 2016.
"I was on the phone to my friend, having a chit-chat as you do, and not really paying attention," she said.
"The way it happened, it was so quick. They came up behind me, they mounted the pavement.
"I thought someone was nudging into me but actually they'd taken my phone."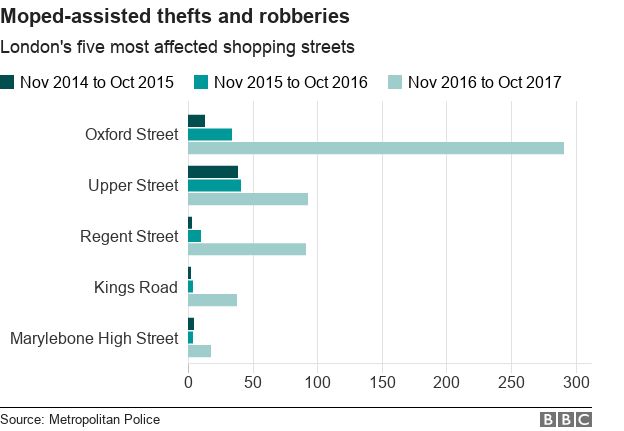 Dr Simon Harding, associate professor of criminology at the University of West London, said the rise in these crimes could be because phones are more valuable than they used to be, and are an easy item to steal because people use them so much.
"If you look at mobile phones five years ago, they were pretty much in our pockets unless we got a phone call," he said.
"Nowadays people are phone zombies. They are on their phone walking along the street, bumping into people, not knowing where they are going."
Offenders are also motivated by the fact they will not have to pay to get the phone unlocked if they can grab it while it is in use, he said.
Media caption George Osborne was one of the hundreds to be targeted last year
Thousands of people in London have been victims of these crimes, including former chancellor George Osborne .
Of the 848 moped-enabled thefts, robberies and burglaries recorded in 14 major retail spots in the capital since November 2014, 79% were theft or attempted theft of personal property.
Ms Matuba said she was left "paranoid and hysterical" after the theft, which did not lead to any convictions - and that the increase in the crimes "doesn't make me feel safe at all".
"Fair enough, I lost my phone, but we've seen that they actually hurt people," she said.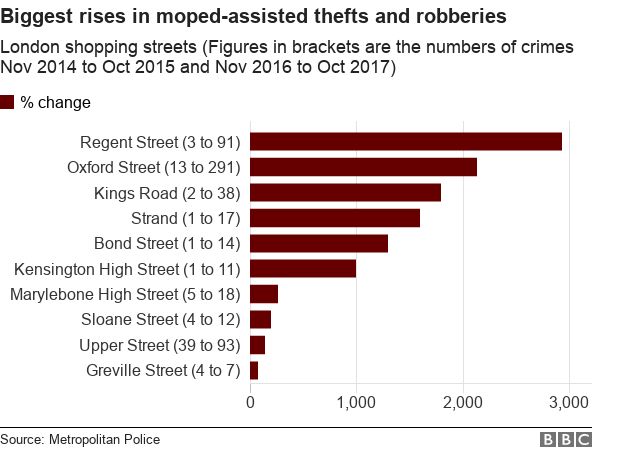 Dr Harding said the "culture" that moped offenders are a part of means they will be armed.
"You'd be a fool to think they weren't," he added.
Earlier this month a 22-year-old man was stabbed after he chased down a moped passenger who snatched his phone out of his hand on Oxford Street.
Image copyright PA Image caption Police are trying new tactics such as using remote controlled spikes to puncture suspects' tyres
Police are developing tactics to tackle the crime surge , such as using remote controlled spikes to puncture suspects' tyres.
Supt Payne added: "Offenders rely on the unwariness of the public to snatch their phones while they make calls so it is important [to be aware] at all times, particularly when emerging from a train or underground station."
Deputy Mayor for Policing and Crime, Sophie Linden, said she plans to "stamp out" the "reckless and intimidating" offences, with help from the Met.
Jace Tyrrell, chief executive of the New West End Company - which represents high-end traders on Regent Street, Bond Street and Oxford Street - added: "We will continue to work with public services to investigate these incidents and ensure our district remains secure for everyone."
Read more news of London on our site.
If you notice an error, highlight the text you want and press Ctrl + Enter to report it to the editor